UPDATE: H1N1 Swine Flu Japan – (AFP) – The new H1N1 Swine Flu virus which is spreading around Tokyo like wildfire is highly contagious but many people recover without falling seriously ill.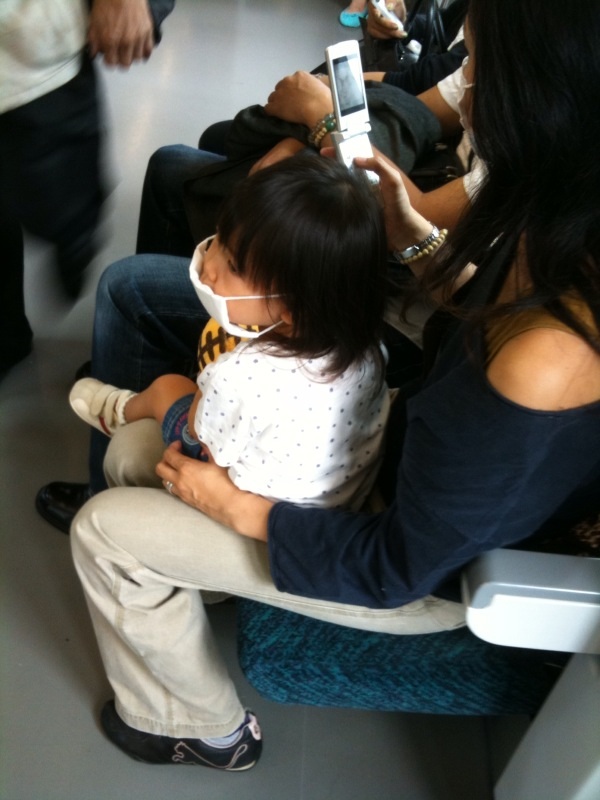 For more information please check what the World Health Organization is saying about the Swine Flu.
"We would like to ask people to be on guard but at the same time continue to react calmly," Chief Cabinet Secretary Takeo Kawamura said. "The government will take all possible measures to completely secure the safety of the public and swiftly dispatch accurate information."
Swine influenza is a respiratory disease of pigs caused by type A influenza viruses. Outbreaks of influenza are common in mammals and birds but usually remain contained within their host species. The swine flu that originated in Mexico – swine influenza A (H1N1) – is a genetic mixture of viruses seen in pigs, birds and people. It is being called swine flu because it is structured like a virus that usually infects pigs.
How did the flu go from pigs to humans?
The most likely explanation for the emergence of this new type of flu is humans living in close proximity with pigs. There are occasional reports of humans contracting swine flu but, in this case, the virus appears to have mutated to make it easier to spread in humans.
Can you get swine flu from eating pork?
No. This swine flu is not making pigs sick, it's making humans sick. And, by the way, you won't get the disease from eating fruits and vegetables from Mexico either. Influenza viruses are not food-borne.
I keep kosher – no pork or pork products – so I don't have to worry, right?
Again, this is a human flu; it really has nothing to do with pigs any more. It may be worth noting that Israel's deputy health minister said yesterday that the country would use the term Mexico flu rather than swine flu.
How is the swine flu spread?
Swine flu spreads in the same way as the seasonal flu – through the coughing and sneezing of people with influenza. Infected people can infect others one day before their own symptoms begin and up to a week after becoming sick.
What are the symptoms of swine flu?
Like the seasonal flu, swine flu symptoms can include sudden fever above 38C, dry cough, sore throat, headache and stuffy nose. Swine flu also appears to cause vomiting and diarrhea. In the fatal cases, the virus attacked the lungs, causing severe pneumonia.
Swine flu appears to be deadly in Mexicans yet relatively benign in the Canadians who have been infected. Why?
There is not yet a clear answer to that question but several possibilities. It could be that the virus is mutating and becoming weaker as it spreads. Multiple infections may be a factor: The virus may do more damage in people already fighting off other bacterial or viral invaders. It is also possible that the Mexican population does not have good resistance to this particular virus.
Should I get the flu vaccine?
The seasonal flu shot is unlikely to confer any protection directly against the swine flu. However, public health officials are recommending that, if you haven't had a flu shot, get one. Despite all the media attention on swine flu, the run-of-the-mill seasonal flu is still a much greater threat to your health: Annually, influenza kills about 4,000 Canadians and leads to the hospitalization of another 20,000. So far, six Canadians have been confirmed to have swine flu, and all of the cases have been mild.
Is there going to be vaccine to protect against swine flu?
Scientists in the United States and Canada have already isolated the swine flu virus. They are growing this strain in eggs, which is the first stage of vaccine production. But, using current manufacturing methods, it would take three to six months to produce a vaccine in large quantities.
The Spanish flu killed between 20 and 100 million people worldwide in 1918-19. Isn't it the same as swine flu – type A influenza H1N1?
Influenza viruses are classified by two proteins on their surface: H for hemagglutinin and N for neuraminidase. The Spanish flu and the Mexican swine flu are both the H1N1 subtype but they still have many genetic differences. Spanish flu originated in birds and Mexican swine flu in pigs. The Spanish flu had unusually severe symptoms, notably causing massive bleeding, both internal and external. There is no indication swine flu causes similar symptoms. Also, social conditions and medical knowledge today are not what they were a century ago.