Akira Sasaki, born 26.09.1981, is an Alpine Skier for the Japanese Olympic team. He represented Japan in the 2002 & 2006 Winter Olympics and he's participating in the 2010 Winter Olympics in Vancouver as well. Sasaki satisfied the SAJ's qualification benchmark of a top-15 finish on the World Cup tour this season by coming 15th in Zagreb in early January.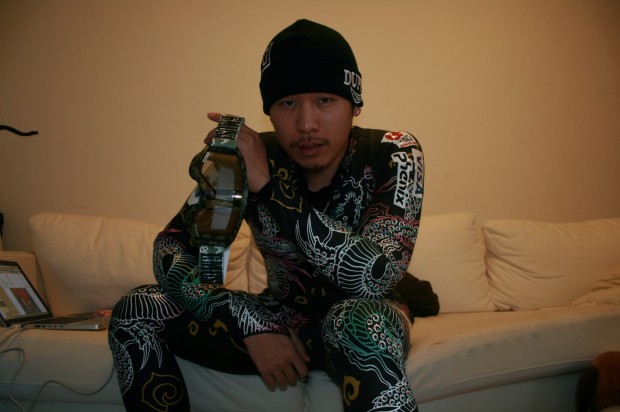 In addition to skiing for the Japanese Olympic team Akira also enjoys extreme skiing - meaning he's a couple sandwiches short of a picnic. Below is a photo of him heli-skiing, or jumping out of a helicopter with his skis on, in Alaska!
When Akira isn't skiing he's usually riding his fixed gear bike around Tokyo. Actually, he often rides from Yokohama to Tokyo and back… and I thought riding from Ikebukuro to Shibuya was a journey!
The reason he's my favorite famous person in Japan is simple - he's a nice guy. It just so happens that I'm in Vancouver right now and I will be here for the entire 2010 Winter Olympics. I look forward to seeing my buddy Akira and his family after he wins the GOLD!
Below: Myself and Akira at Tattoo Soul in Ikebukuro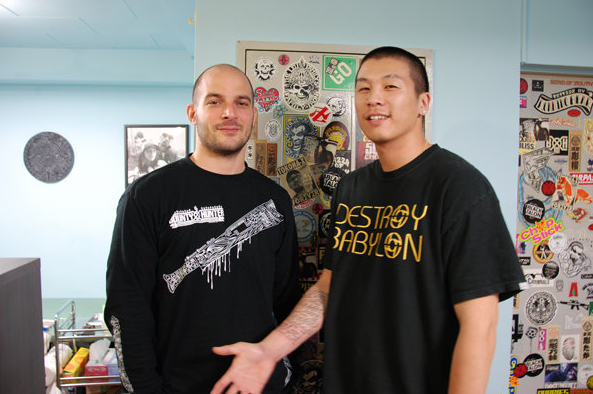 His personal blog lives here and his clothing and apparel line Emusi lives here. Please support him!!
This is my entry for January 2010′s Japan Blog Matsuri hosted by Loneleeplanet.com

Past posts and future hosts can be found on the blog carnival index page. The Japan Blog Matsuri is a regular round-up of news, blogs, travel reports, photos and other findings related to Japan. Each edition of the Matsuri is based on a Japan-related theme chosen by the host.