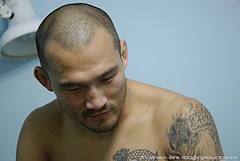 Japanese MMA fighter Kotetsu Boku visited Akilla a.k.a. Horiyamato at "Tattoo Soul" in Ikebukuro yesterday to get a spiderweb tattoo that he's been thinking about getting for quite sometime.

The 3.5 hour session was a combination of machine (for the outline) and traditional Japanese tebori, or hand poked, (for the shading).
Tebori takes much more time than the conventional machine method and some say that it involves more pain. The elbow is a tricky place to both give and get a tattoo because the surface isn't flat and elbow area has a lot of nerves.


Boku-san was tough throughout the entire sitting and, although I have some pictures of him grimacing, I won't post them here because he'll kick my ass! After taking a look at his highlight reel on youtube I think you might make the same decision.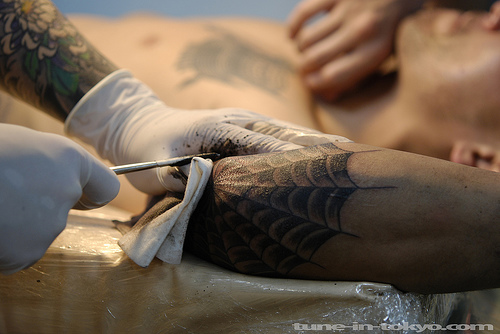 And here's another clip showing the process. Akilla started by drawing the tattoo with a pen. Then he used the machine for the outline and he hand poked all of the shading.
Kotetsu Boku, nicknamed the Korean Tiger, is a member of the "Krazy Bee" team which was founded by Norifumi Yamamoto "Kid". "Kid" was the Japanese MMA organization HERO's Middleweight World Champion in '05.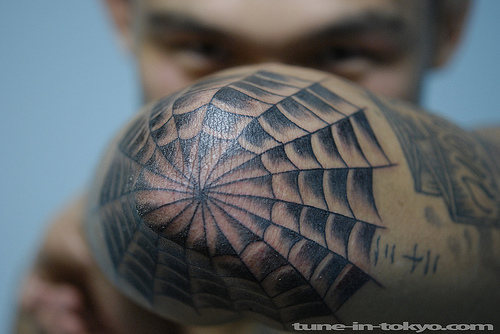 The tattoo came out just as he had hoped and he was very happy once it was finished.