Finally! The Canon 7D has a massive firmware upgrade that adds manual audio control.
It's not a great manual audio function - it's in the video menu so it's difficult to access quickly, and… there are no levels on screen while recording, no ability to change audio levels while recording and no headphone jack of course… but it's certainly better than the auto gain control.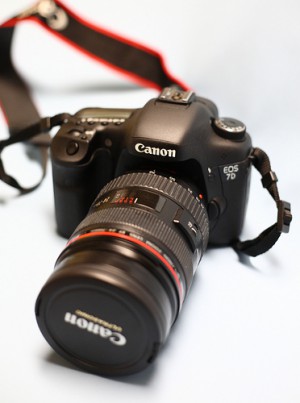 Below is the press release that details all the new features.
London, UK, 28 June 2012 – Canon today enhances the EOS 7D with firmware v2, adding a range of new features for enthusiasts looking to push the limits of their photography. Building on the camera's high speed, advanced handling and creative versatility, the new firmware provides photographers with a host of new benefits including higher maximum RAW burst rate, in-camera editing functions, user-definable Auto ISO and support for Canon's latest GPS Receiver, GP-E2.
Originally launched in 2009, the EOS 7D was carefully developed based on the feedback from thousands of photographers from across the globe. Offering the perfect combination of outstanding image quality and exceptional versatility across a range of photography styles, even today it is still considered to be one of the best APS-C cameras on the market. When developing the new firmware Canon followed a similar approach, gaining direct user feedback to bring the EOS 7D up to date with enhanced performance and a greater range of shooting capabilities and creative functionality.
Enhanced RAW performance
With an 18 Megapixel APS-C CMOS sensor, Dual "DIGIC 4″ processors and an extended maximum ISO of 12,800, the EOS 7D offers fast, high-quality shooting at speeds of up to 8 frames per second. Thanks to the new firmware which adds powerful memory management algorithms taken from Canon's flagship EOS-1 series, photographers will now be able to enjoy greater flexibility in continuous shooting, with the maximum RAW buffer now extended to a new high of 25 RAW files or 130 JPEGs. Combining with the camera's high 18MP resolution and 14-bit image processing, this will allow photographers to capture the decisive moment with rich detailed images.
In-camera image editing and rating
A range of newly-added editing functions also gives photographers more control over how images look, allowing post-production to begin in-camera. Photographers can now process their RAW files and correct artefacts such as peripheral illumination, distortion and chromatic aberration. Additionally, adjustments to white balance, sharpness and Picture Style, as well as a host of other parameters, can now also be made immediately after shooting, with the results saved as new JPEG files. JPEGs can also be instantly resized, without the need for a PC or Mac.
Photographers can now easily filter large volumes of pictures on their way back from a shoot using an image rating facility. Image rating data is stored in each file's metadata, which can be read by a range of editing applications, including Canon Digital Photo Professional, and other industry software such as Apple Aperture, Adobe Lightroom and Bridge.
Extra control in stills and movies
The EOS 7D's new firmware provides extended versatility across both stills and movies. Newly-added control of Auto ISO enables photographers to limit the maximum ISO speed to any point within the native ISO 400-6,400 range. Offering greater control over exposure, this will enable photographers to customise the maximum automatic ISO speed to suit their personal preferences, or to adjust parameters in different situations to meet specific creative goals.
Improved audio functionality in movie mode also provides aspiring videographers with greater control while shooting videos. Users can complement the camera's Full HD (1920x1080p) movie footage with 16-bit digital stereo sound, sampled at broadcastquality 48KHz, and new manual control of audio levels allows users to choose from 64 sound levels. A digital wind-cut filter also reduces noise made by movement of air around the microphone, ensuring sound is clear and free from peripheral interference.
Track your travels with GPS compatibility
Firmware v2 also provides added capacity for users to track the location of their images with new support for the GPS Receiver GP-E2 – Canon's latest high-performance GPS unit. The GP-E2 is attached securely to the hotshoe, and connected to the camera via a cable, making it easy for EOS 7D photographers to geo-tag photos with longitude, latitude and altitude data as well as the direction in which the shot was taken – adding the information to the EXIF file of the image1. A GPS Logger tracks movements by downloading GPS data at regular intervals, and compatibility with Google Maps means users can easily view their route in Canon's free Map Utility software.
Firmware v2 will roll out across the region from August 2012.
Canon EOS 7D firmware v2 – new features:
Improved maximum burst for RAW images (up to 25)
In-camera RAW image editing
In-camera Image Rating
In-camera JPEG resizing
Maximum Auto ISO setting (ISO 400-6400)
Manual audio level adjustment in movie recording
GPS compatibility
File name customisation
Time zone settings
Faster scrolling of magnified images
Quick control screen during playback thth