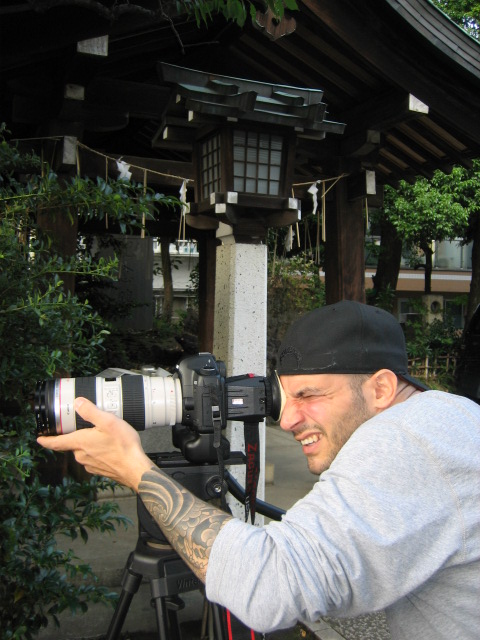 All I can say about the Zacuto Z-Finder V2 is, "Holy Mackeral!" I read about the 'can't live without DSLR accessory' on various blogs and I couldn't wait to see for myself what all the fuss was about.
I got mine the other day, shipped from Florida to Japan along with some other accessories that, believe it or not, are much cheaper in the USA than they are in Japan. The Z-Finder V2 totally exceeds my expectations.
"It offers a 3x focusable magnification, a 40mm diameter lens, an eyecup preventing extraneous light leakage, and a field of view perfectly matched to LCD screens."
I followed the instructions and installed the mounting frame the way it's supposed to be done :) I set a weight on top and, although it was difficult, I waited 24 hours until the glue completely dried before using it. It was a long 24 hours - I'm proud of myself!
The Z-Finder snaps onto the frame firmly and there's no chance if it falling off. I was a bit skeptical about the plastic frame at first sight… but after a quick hands-on my worries were gone.
The LCD viewfinder looks beautiful magnified. I used the viewfinder when shooting both video and still photos. Most of the chatter I've heard about the Z-Finder revolves around shooting video. Well let me tell you how nice it is to use this baby shooting stills. Keep in mind: with the 5DMKII - 'Liveview Mode' disables autofocus. So it's either one or the other. You can't use both!
Besides the visual factor, one great thing about the Z-Finder is the additional point of contact with the camera in handheld mode. Two hands and your face = three contact points. What a difference an additional contact point makes when trying to hold her steady. I'm thinking about getting the Zacuto "Gunstock Shooter Kit" which adds one more contact point with your shoulder…
Here's the Zacuto Z-Finder with the Vocas leather/suede eyepiece. I love the feel of the Vocas eyepiece as opposed to the rubber eyecup that comes standard on the Z-Finder. Since the Vocas eyepiece is a little smaller than the rubber eyecup, the eyecup bends inside creating extra cup action and more cushion.
Conclusion:
The Zacuto DSLR Z-Finder rules! Get one.
Visit Zacuto for more info about the Z-Finder.
Or if you've made up your mind then: BUY IT ONLINE