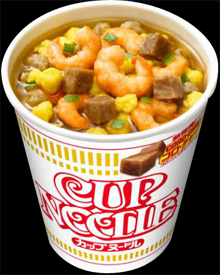 Millions of students and salarymen everywhere owe a big debt of gratitude to Momofuku Ando (1910-2007), the Taiwanese-Japanese businessman who invented the humble Cup Noodles.
In Ando's honor, Nissin Foods Holdings and the Ando Foundation will open a Cup Noodle Museum on Sept 17 at Minato Mirai in Yokohama. The museum will cover everything from how Ando first came up with the idea of cup noodles to how to make your favorite flavor. The History Cube explains the product's development from the first Chicken Noodle to all the various types available today.
There are 10 facilities in the museum, including the "Chicken Noodle Factory" and "My Cup Noodle section" where visitors can experience making noodles. For children, Cup Noodle Park has playground equipment that lets them "become noodles" during the production process."
The museum will be open from 10 a.m. until 6 p.m. Admission fee is 500 yen for adults. Free for anyone under 18.