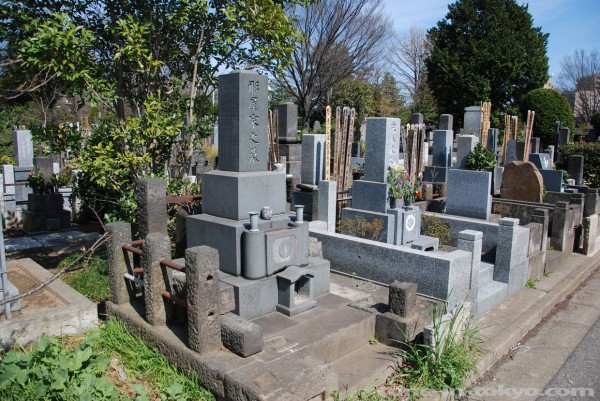 These photos were taken at the Zoshigaya Cemetery in Tokyoā€™s Toshima Ward, a 20-minute walk from Ikebukuro station. Here, visitors are given free maps (or you may donate 100 yen) to navigate the never-ending maze of tombstones.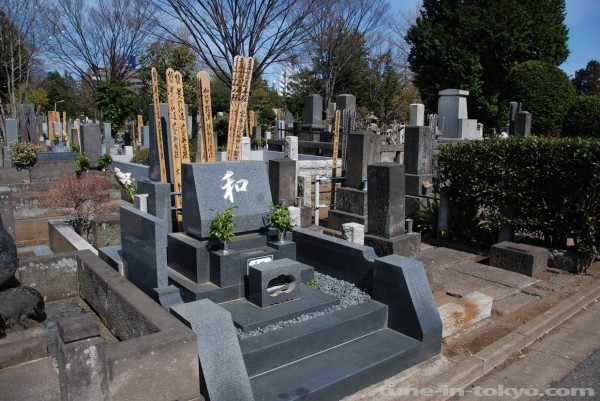 Each plot of land belongs to a single family and the names of the deceased are engraved on the left side, or on a separate stone in front of the grave. Often, the name is also written on a sotoba, a separate wooden board on a stand behind or next to the grave. These sotoba may be erected shortly after death, and new ones may be added at certain memorial services.
Bodies are not actually buried in Japanese cemeteries. A Japanese funeral includes a wake, the cremation of the deceased and a burial in a family grave. 99.82% of all deceased Japanese are cremated.
While Japan has a mixture of ShintŨ and Buddhist beliefs, funerals are almost always Buddhist ceremonies, and 90% of the funerals are Buddhist style.
The date of the erection of the grave and the name of the person who purchased it may be engraved on the side of the monument as well.
Some graves may also have a box for business cards, where friends and relatives visiting the grave can drop their business card, informing the caretakers of the grave of the respects the visitors have paid to the deceased.
At a Japanese cemetery thereā€™s usually a shop where you can buy flowers. These shops also have brooms that can be borrowed to sweep the leaves and dirt from the monuments. Itā€™s also a common practice to borrow or bring a bucket of water and wooden ladle to rinse the tombstone. Once that is done two sticks of 'osenkoā€™, or incense, are lit and a prayer is said.