It was the summer of 2004. I had recently moved to the Tampa bay area from Miami. It was on my mind to try to meet the legendary Karl Gotch. Known in Japan as The Kamisama, God of Wrestling. I knew it wouldn't be easy. I had heard all the horror stories about how harsh he could be. I would later learn that he was not harsh at all, but a person that respected life and did not tolerate weakness or excuses from people.
Finding him would not be easy. I had a friend who knew a guy who knew a guy that helped him move seven years earlier. The only information I had was that he lived in a gated apartment complex on a certain road in Tampa. So I went to the first complex I could find in that area. There were over forty buildings in the complex! I had no idea which building or which apartment and there were no names written for security reasons. I knew it would be a long search, but it would be worth it.
I started with the first building in the back. There were eight units in each building. I knocked on the first door expecting to spend my whole day knocking on many doors. The door opened. Standing before me was a very large powerful athletic presence. Much to my surprise, the very first door was just what I was looking for- KARL GOTCH! It was some kind of fate that clearly guided me to him. "You are a very hard man to find." I said. He replied to me in a very distinct Flemish and worldly accent, "That's because I don't want to be found." I then told him I would do anything he said even if it kills me. After all I wasn't expecting him to actually train me. I thought he would tell me to get lost like he did to everyone else that came around in his older years. He had just turned 79 at this time and hadn't fully trained anyone in many years. There was a moment of silence. I knew he was thinking about the statement I had just made, the one about killing me. Then he said "Come in."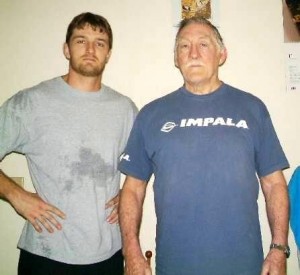 I took my first step in the door. Then the second step. Then as my foot set in to my third step he sternly ordered "Squats!" Within fifteen seconds of meeting him I was doing squats. I had done squats before, usually in sets of fifty. On this day he stopped me at 150, it was a lot for me at the time. Then he had me do pushups. I did fifty. Then we did the bridging.
The bridge is probably why I didn't get sent out the door. He was pleased with my bridge. I was shocked that anything I did was adequate. So he made me stand up. He said "Ok, even if it kills you, fall back into a bridge." Now I was in over my head. No pun intended! I had never fallen backwards into a back bridge from standing before. He didn't give me time to think about it. "GO!" he shouted. I arched my back, drove my hips to the sky, and landed my head perfectly on the ground. I couldn't believe it.
Next was stretching. Karl always had a way of making everything harder to do no matter how simple it was. Stretching was brutal. After stretching we sat down and talked about wrestling for a while. I asked him many questions about his time in Japan. The Japanese wrestling and fighting scene had always been my passion. Japanese fight organizations such as Shooto, Rings, Pancrase, PWFG, etc were a big influence on my training and it had all started with Karl Gotch.
I then thanked him for his time and walked to the door. He stood at the door and said "Come back tomorrow." I was very happy to hear him say that, although I knew what it meant. It meant I would have to commit to something that I wasn't sure I would be able to do. I knew it would be a whole new level of conditioning and grappling for me. Even though I had twelve years of grappling training under my belt and was very knowledgeable by today's standards, I knew that by his standards I was clueless. The next three years I would spend with him would see me doing and learning things I never thought would be possible. At times it was very hard, but I stuck with it and didn't get sent away with my tail between my legs. He wanted improvement and "guts" and my conditioning and skills improved a lot thanks to his demanding ways. He had a better way of doing everything I showed him of what I knew. He was way ahead of his time, and ours. My experience with him changed my life. I'd like to think that I gave him some hope that people were still interested in real wrestling. That is all he wanted. Not money or favors, just a true love of real wrestling.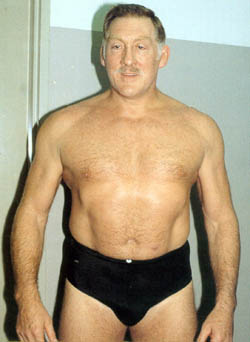 Karl Gotch excelled in amateur wrestling and experienced a very big breakthrough in his career by competing as Charles Istaz for Belgium in the 1948 Olympics in both freestyle and Greco-Roman wrestling. Gotch also trained in the Indian martial art of Pehlwani. This training led to Gotch's regime of calisthenic bodyweight exercise, which were used by Indian wrestlers and other athletes to build leg endurance and strength. He also adopted other Indian exercises, such as the bridge, Hindu squats, and Hindu press ups in his wrestling. Gotch's philosophy was later passed on to several of his students.