Elinchrom BXRi To Go Kit with stands
Style 500/500 Multi-Voltage
I'm selling my LitePanels Ringlite and LitePanels 1×1 on eBay and I'm picking up the Elinchrom BXRi To Go Kit 500/500. I'm sold on the wireless trigger and remote control options of the new BXRi series. Compared to video lights these are very affordable.
Manufacturer Description:
The new multi-voltage BXRi's are perfect for portraiture, still-life, product, and architectural photography. The new case has the thermally controlled fan located at the bottom of the housing instead of on top like the current style.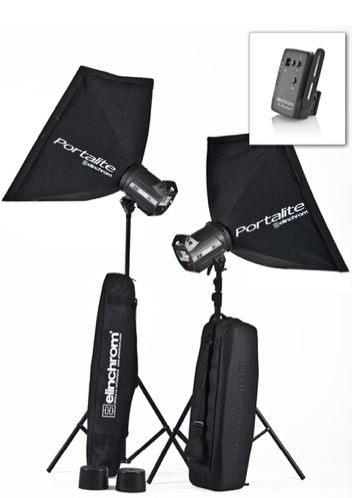 New features include:
• Built-in Skyport Triggering – Using a Skyport Trigger can completely control the BXRi including power up and down and turning on/off modeling light using eight frequencies and four workgroups. However, to help separate them from the more professional Style RX's, the BXRi's do not show up on Skyport software.
• Visual Flash Confirmation – Modeling light can turn off until flash is ready to fire.
• Eye-Cell – When using BXRi's in optical slave mode with cameras or pocket flashes with a pre-flash, user can program the number of pre-flashes or have the head automatically program on its own.
• Power & Modeling Lamp Steps – Can modify 1/10 step increments to any 1/20, 1/30, … 1/90, 1 stop. • Proportional modeling light setup – When using compact flashes of different powers the modeling lamp can be reduced or increased 1 f-stop for better visualization.
• Change ready beep sound length - The length of the ready beep can be changed from 70 to 490 m/seconds.
All BXRi flash units offer wireless trigger and remote control options with the integrated EL-Skyport Receiver and Transmitter system. Each Set contains two BXRi Multivoltage flash units one EL-Skyport Transmitter and two Portalite 66×66 cm softboxes. The EL- standard bayonet with security breech lock accepts all Elinchrom accessories and reflectors. Try the "Lighting Solutions" link, with many powerful accessories for individual lighting. The Stand Set contains two stands 88-235 cm and the carrying bag, which comes in a separate box.
The kit includes:
* 2 EL 24061.1 BXRi heads
* 2 EL 26124 Protective Caps
* 2 EL 26139 Portalite 25″ Softboxes (no umbrella's)
* 1 EL 33230 Stand Bag
* 2 367B Manfrotto light stands
* 2 EL 11088 Sync Cables
* 1 EL 19351 Skyport Trigger
* 1 EL 33199 BXRi carrying bag
BUY ONLINE: Elinchrom EL 20751KIT Style 500/500 BXRi To Go Kit