Japanese company March Development Corporation of Fukuoka has created an automated rocking baby crib for new parents who are tired of getting up every few hours to rock their baby back to sleep.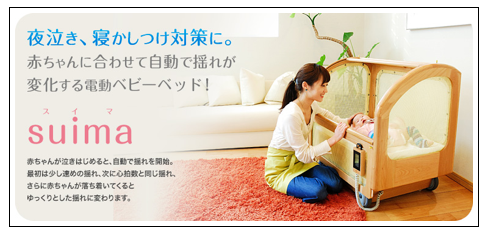 The 420,000 Yen Suima which has the slogan, "Happy Child Care Life," does the rocking for you.
The 946 × 619 × 885mm 60kg bed has a built-in sensor to detect specifically a baby's cry and the bed automatically starts swaying left and right to a width of about10cm. At first the bed does quick-paced rocking, then slowly settles into the pace of the mother's heartbeat and eventually, it rocks slower and slower to a more sleep-inducing pace. If all goes according to plan, the baby should be asleep again within 15 minutes.
The bed was made in collaboration with Kyushu University and is for babies aged 2 weeks to 10 months old. If you're in Japan, the bed can be purchased for 420,000 yen or rented for for 10,000 yen per month.
via japansugoi.com