Back-button AF offers some significant advantages, especially for the experienced photographer. It can take a little practice to get used to it… but I suggest giving it a try if you haven't done so already.
For years, Canon EOS cameras have offered photographers an option to change the way autofocus is activated. Often referred to by pros as "back-button AF", this feature lets the user customize the camera so that focusing is performed by pressing a rear button with the photographer's right thumb.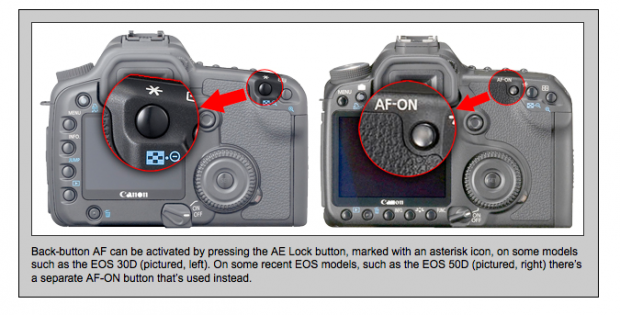 The shutter button still wakes up the camera with a half-press, and fires the shutter with a full press downward. By separating AF activation from shutter release, it's possible in some cases to be more effective with AF, and not have the focus thrown off if something momentarily enters the picture area while you're shooting.
Visit the Canon website to learn more about back-button AF