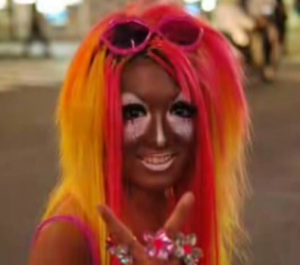 Just when you thought the Ganguro girls were over the top. Here come the Mamba and Yamamba girls. Multi-colored synthetic hair, dark tanned skin, white lipstick, pastel colored eyeliner and crazy multicolored clothing was their signature style in the early 2000's.
Now in the present time, they are back and in full force. Pink dyed hair is the most popular, although anything neon and bright is ok. Hair extensions and clips are worn to match their even more dark tan.
Please do not compare the Mamba to Yamamba. Mamba girls have white makeup above the eye and below and look like pandas. The Yamamba only have white makeup above their eyes. They all love Disney characters and anything to do with Hawaii.
Look for the most popular girls in this so called group of Japanese Gyaru in Shibuya and Ikebukuro. These group of Gyaru include Kogyaru, Ganguro, Mamba and Yamamba. The most popular Japanese Gyaru group is called AngeleeK. Look for magazines like EGG, POPTEEN and EGO SYSTEM if you want a fix of pictures!