In the early 90's a young Japanese, 29 year old woman had a dream to open a lingerie business in Japan. Miki Noguchi started a mail order business called "Peach John", selling imported American lingerie. Timing couldn't be more perfect, the ever so popular even till this day "Padded Bra" just came out and Miki decided to make it her company's first product. She named it the "Bomb Bust".
The "Bomb Bust Bra" was an instant hit and still is to this day one of the most popular bras out there. It has super thick pads in the lower part of the cup. Instant lift and instant volume!
The craze died down in the late 90's and Miki had to make a decision to downsize and reconstruct her company. She quickly made up for her losses in a year and her company was back in full storm. She introduced a new bra called the "Circuit Bra", it's the most popular bra today. It has a u-shape wire in the lower cup to create a round bust and lots of cleavage!
In 2006 a huge well known lingerie company in Japan called "Wacoal" became 49% owner of the company's shares. Eventually, "Wacoal" got full control of "Peach John" in 2008.

"Peach John" is the Japanese version of "Victoria Secret". They publish a catalogue every season with some of the most beautiful models. Famous actresses and models from the US have also been on the cover of their catalogues.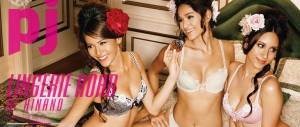 Models include, Jessica Michibata, Anjelica Michibata, Anna Umemiya, Hinano Yoshikawa, Rie Hasegawa, Lena Fujii and Kelly…just to name a few.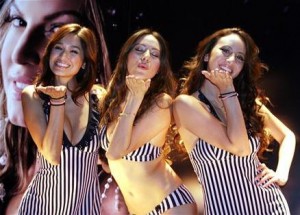 Famous Actresses and Models from the US include, Fergie and Dita Von Teese.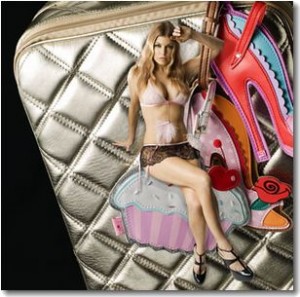 Not only do they sell really cute and sexy lingerie, they also sell bags and accessories, shirts, jeans, pants and shoes. Everything can be bought on the internet at www.peachjohn.co.jp.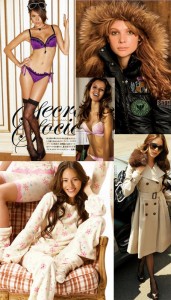 If you get the chance to go into one of their stores, try on every bra because the sizing is a little tricky. From my experience 34 is the biggest back size they have. Each store has its own theme and it's so much fun just to go inside and check out their stuff. I just love their underwear!