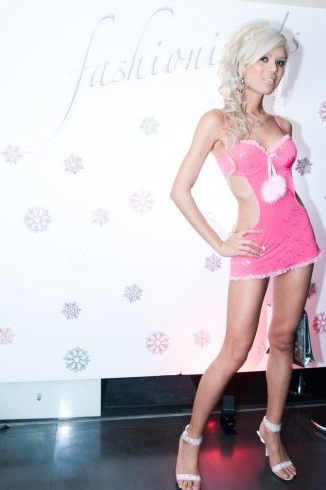 I recently had a chance to interview one of Tokyo's top nightlife promoters Tiffany Rossdale a.k.a. Tokyo Hottie. She's a foreigner in Japan who is living the 'not-so-typical' life of a gaijin.
Tiffany enjoys what she does and she does it well. Her upcoming party, "Fashionista's…a Sexy Lounge Event!," is just around the corner and I hope you can make it out to show your support.
Her use of social networking websites like Facebook (she has over 3,300 friends!) is yet another example of how powerful and effective the web has become… even in Tokyo's thumping nightlife.
Interview with Tiffany:
ME: What made you want to start throwing parties and how long have you been doing it?
Tiffany: "Well, I was just a typical party girl in town a few years back. I just love to attend parties and dance a lot! From then party organizers/hosts, club staff and dj's noticed me and started to invite me to their events and I became an A-Lister to most of the parties and clubs I attend. Since I get along with the party people, some events asked me to hosts a party and it worked! I never really thought that most of my friends will come and support me on those parties. So then i got bored going to most of the parties because I saw the same people every weekend in the clubs and the resident dj's would play the same routine over and over again. Then I finally decided that I have to do my own thing to stay interested and to show the Tokyo party people that there's still an event where they can enjoy looking at unusual sexy shows with class, be part of a great crowd and listen to great music all in one night."
ME: When did you realize that you had become a success as a party producer?
Tiffany:"After having my own event called Tokyo Fashionista for the first time @Velours and it was last year of October! it was also my b-day so I decided to do a big celebration and it was a huge success! More than 300 friends and party people came and celebrated it with me. I never really expected that kind of turnout and especially for a beginner. So I will definitely not forget that day.
ME: What are some of your most memorable, wildest moments as a party producer?
Tiffany:"Every party I hosted and of course all of the Tokyo Fashionista events. The last event I had for Valentines Day was very memorable because FashionTV was there to highlight my party and aired it internationally. We also have coverage on YouTube which is good for the party."
ME: What kind of people attend your parties?
Tiffany: "We definitely get a mixed crowd. It's usually about half gaijin and half Japanese. Older people even come to my parties. coz everytime i go party, i always had a chance to mingle with everyone! maybe im just too nice to everyone! lol and then when i invite them to my party they come and show-up and after i'll get very good feedbacks from them! most of them!! even those haters!"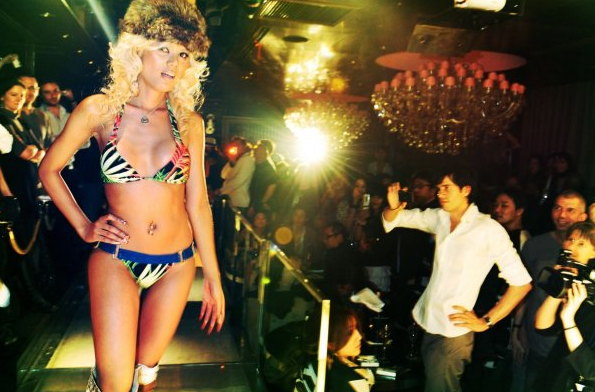 ME: What do you think of Tokyo club life now compared to what it used to be when you first started?
Tiffany: "Well before they dont check ur ID's and stuffs and now they're very strict with everything! but i definitely agree with bein' strict coz with that it'll lessen the bad crowd and young crazy crowds! i try my party to be more peaceful and fun!!! Also i think Japanese people nowadays are really accepting the western style of partyin which is makes Tokyo havin' a bunch of events organized by foreigns like me! but still i think my party is still the best though!!! lol"
ME: What methods do you use to promote?
Tiffany: "Definitely Networking! I think if you know the party people everywhere and they know you as well then your safe! lol I also use most of the social networking sites like FaceBook, MySpace and Mixi which keeps me connected to everyone."
ME: How often do you have parties and are themes always different?
Tiffany: "Most events happen every month. I try to make my Tokyo Fashionista event more special so it only happens every other month. Most people come and check that party and wont miss it because it'll be a long wait again for the next one to come! Themes are definitely important in a party! so everytime I will have an event…the first thing that i have to decide is the theme of the party."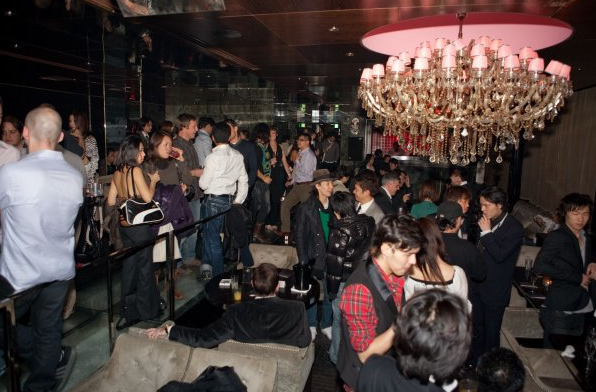 ME: Do you plan to take your event anywhere else in the world?
Tiffany: "I'm actually getting offers from most of the Asian countries like Hong Kong, Shanghai, Beijing, Bangkok and even Aussie! I'm workin on it and hopefully it'll be a success! So i have to travel lots in those cities this year! im really excited!"
ME: What is the name of your event and why did you chose that name? and tell us more and what to expect?
Tiffany: "It's called Tokyo Fashionista! a special lounge event! I chose that name coz I definitely think that when you show up to a party you should wear your best - especially for girls! I'm a big fashion lover also so I think its important when you attend a party or event! I think that my event is really special and I guarantee you will enjoy partyin' with a good crowd and good music! It's mainly hip-hop, R&B and electro house musics by the way."


The next "Fashionista's…a Sexy Lounge Event!" details are as follows:
Produced and Hosted by: Tiffany aka. Tokyo Hottie
April 18, '09 (Sat)
Party Starts From 22:30 'Til U Drop!
*SEXY BIKINI MODELZ*
Lena Loredana (Fashionista's Sexy Performer)
Natalia Cardozo (Brazilian Samba Dancer)
Amiria Kondo (Ex-former Japanese Moussy Model)
Patricia Rodriguez (American Pole Dancer)
Sandra Bahia (Brazilian Samba Dancer)
Amelia (Japanese-American Sexy Performer)
*HOT MALE MODELZ*
LaRoy Cotton (Fashionista Sexy Performer)
Ricky Roma (American-Italian Fashion Model)
Ohad Elbaz (Fashionista Sexy Performer)
Deivet Ara (Ex-former Brazilian Male Stripper)
Hiroshi Katori (Japanese Male Fashion Model)
Rob (Ex-Former African-American Male Stripper)
Cosmin Petre (Romanian Male Fashion Model)
*Entrance Fee*
Hot Guys- ¥3,500+1 Complimentary Drink
Sexy Gurls- ¥3,000+1 Complimentary Drink
Dress Code: TRENDY Spring Outfits!
Venue: @ 57 in Roppongi
for VIP TABLE reservations & discount guests…plz e-mail Tiffany - [email protected]
*MUSIC GENRE*
Billboard Top Tracks/ Hip-Hop / R&B / Sexy Electro & House Music
VERY IMPORTANT REMINDER: YOU MUST BE OVER 20yrs. OLD WITH PHOTO ID TO GET IN!!!
*TIME SCHEDULE*
Opens 10:30pm
10:30-11:30pm DJ TY (Hip-Hop R&B Mix)
11:30-12:30pm DJ HANS (Electro House Mix)
12:30-1:30am DJ POLAROIDFADES (Deep / Techno House Mix)
1:30-2:30am DJ CASH (Hip-Hop R&B Mix / Billboard Top Tracks)
1:30am Wet & Wild Surf and Bikini Fashion Show
2:30-'til last hours… DJ LOUIS le CROUNEUR (Tribal & Electro House Mix)