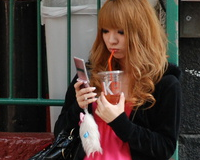 With the launch of the new "Tokyo.Japan Times" website I now realize the power of the Mirai Gaia platform designed by Danny Choo. The partnership was announced back in Nov. of last year.
I've read some posts by Danny about UCG or "User Generated Content" - known in Japan as CGM or "Consumer Generated Media" - and it looks like this platform is the future of the web. I absolutely love the design and functionality and I would give my pinky finger to be able to use it for a project I'm working on at the moment - which is bringing my family and I back to Miami Beach in mid-March.
I joined the Tokyo Japan Times community - my profile is here - and I plan on submitting content on a regular basis. I'm really looking forward to seeing how the site develops. I have no doubt in the platform however I do wonder how the moderators will handle the load when the submission count skyrockets. Quality control of user generated content is a must!