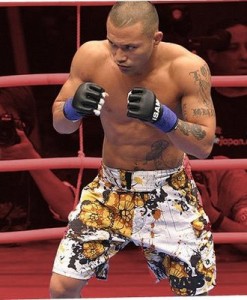 The Olympia DREAM 9 Feather Weight Grand Prix 2009 2nd Round lineup was announced today.
Yamamoto "Kid" Norifumi of Krazy Bee is taking on Joe Warren from the United States.
Joe is only 1-0 in his pro mixed martial arts career with a win over Chase Beebe in the 1st Round of the tournament by doctor stoppage. I might be a bit biased being a Krazy Bee member… but "Kid" will walk through Joe without any problems whatsoever. "Kid" is a veteran with many big fights under his belt and the combination of his experience and expert skill level will be too much for Joe's wrestling background to handle.
I'm hoping to see Masakazu Imanari make it through to the 3rd round so "Kid" can beat him down later. But he's going to have his hands full with Brazilian Jiu Jitsu black belt Bibiano "The Flash" Fernandes who beat Takafumi Otsuka in the 1st Round by unanimous decision.


Former MLB slugger Jose Canseco will make his mixed martial arts debut in the Super Hulk Tournament vs. 7-foot-2 and 330-plus pound Hong-Man Choi from Korea. Canseco was busted for using steroids by Major League Baseball and then snitched on other players for a profit. After taking a look at the beating Canseco took from Vai Sikahema I think it's safe to say the snitch doesn't stand a chance against the giant Korean.
Date: May 26, 2009
Location: Kanagawa, Japan
Venue: Yokohama Arena
Broadcast: HDNet (North America)
Pricing is as follows:
VIP 100,000 JPY
Royal Ring Side (RRS) 22,000 JPY
Stand "S" 10,000 JPY
Stand "A" 5,000 JPY
Doors Open: 4:30 PM
Event Starts: 5:30 PM
Feather Weight Grand Prix 2009 2nd Round
Norifumi "Kid" Yamamoto vs. Joe Warren
Bibiano Fernandes vs. Masakazu Imanari
Yoshiro Maeda vs. Hiroyuki Takaya
Abel Cullum vs. Hideo Tokoro
Dream Middleweight Championship
Ronaldo "Jacare" Souza vs. Jason "Mayhem" Miller
Super Hulk Tournament (Open-Weight)
Jose Canseco vs. Hong-Man Choi
Gegard Mousasi vs. Mark Hunt
Ikuhisa "Minowaman" Minowa vs. Bob Sapp
Jan "The Giant" Nortje vs. Rameau Thierry Sokoudjou