A couple weeks ago I posted here a little something about our gyoza feast with family. Today we did it again but we broke the rules and it was delicious. So instead of making plain gyoza we decided to make a few batches - each with a twist.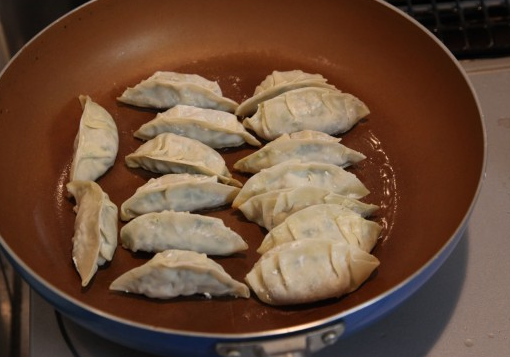 The normal gyoza ingredients - garlic, ginger and chives… with a couple extras - shiso and shiitake mushrooms for the variation batches.
Perilla or shiso leaf, which is member of the mint family, has a very distinct flavor. It's often served with sashimi or sushi but there are many ways to use this ingredient. Today it was shiso leaf and mozzarella cheese!
Batch number two included these skrimp, cut up teeny tiny, with a little miso paste and shiitake mushrooms.
You can use any kind of miso paste but this one is a special miso from Kumamoto. My wife's family is from there and we often use Kumamoto ingredients at home. It's a bit sweeter than regular miso as is their soy sauce.
Shiitake mushrooms were also cut up as small as possible.
A common denominator in all of the batches was cabbage.
…and hakusai, or nappa cabbage, for all of you gringos.
And here I am, three beers deep, doing the cabbage chop. I normally karate chop cabbage bare handed like Chuck Norris but for the photo I used a knife.
… she puts the shiso in the gyoza wrap
… and adds a little shrimp mix
… topped with a little mozzarella cheese and it looks like we have ourselves a party folks!