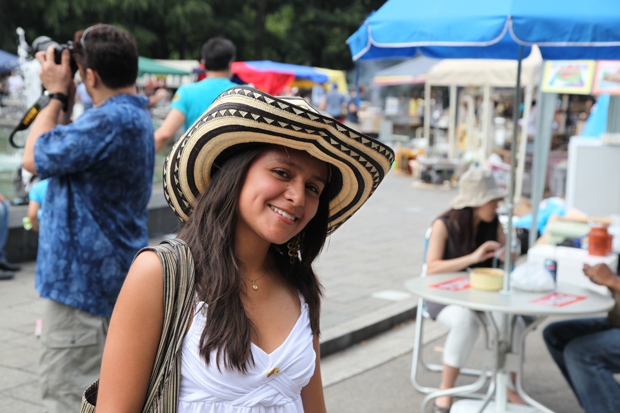 The Colombian Independence Day Festival was held on Sunday, July 19th at Hibiya Park in Tokyo. On this day Colombians celebrate their declaration of independence from Spain 1810. A proud Colombian enjoying the hot summer day. Food, music, drinking and dancing were on the itinerary.
Everyone was wearing these Colombian hats - kind of a cowboy hat but straw woven instead of rawhide like the ones I'm used to seeing.
The grill started smoking at 10:30 AM and they must have gone through thousands of chorizos and spicy grilled chicken thighs.
The sausage man was pumping out burritos for hours. I don't know how he did it. It was hotter than Africa out there today!
I wolfed down one chorizo burrito and one spicy chicken thigh. Delicious!
The meat-on-a-stick was looking really good.
This chica came all the way from Italy to taste some of that Colombian carne.
A big pile of pork is seasoned and massaged before going into the hot oil.
Standing around this rig made me a pretty nervous. Anything involving hot grease and a portable gas stove is extremely dangerous and people should… cuidado mucho. See how close that grease is to the propane gas? What if the grease spills and catches fire? That's how it happens folks. Not a good idea… but enough worrying - we have a party to talk about.
The frozen drink section was out of control.
I had the best juice I've ever had in my life: lulo, also known as naranjilla. I looked it up because I'd never heard of it. Isn't the internet great. Want some lulo in your back yard? Buy the seeds :)
Not everyone was drinking fruit slurpes though. There was some real drinking going on too.
Not only Colombians were at the fiesta. All Latin American countries were in the house. Yes, I miss living in Miami Beach at times.
A little YouTube clip to give you an idea.
Two amigos have a friendly conversation.
Their conversation was overheard by a man wielding a tequila bottle.
"Stop talking so much and have a little swig of this tequila mi amigo."
"Hey knock it off over there fellas!"
Then some crazy looking Colombian goblins took the stage and began dancing and running around in circles. Nice costumes - might be a good mask for a bank robbery scene in my movie.
The kids were having a blast!
Everyone was dancing, singing and playing around.
Some kids went swimming in the fountain!
Hiding from the blazing sun.
It was the best people watching day I've had in ages.
And of course "that guy" was there. You know… the guy that appears out of nowhere and makes you say, "what planet am I on?"
More information about this and other Colombian events can be found on the Colombian Embassy website. It's hard to believe I was in Tokyo today.