My buddy Laren, who made a contribution to tune-in-tokyo as a guest blogger a while back, posted a little video on his blog (sensiblebeing.com) demonstrating the proper way to do a Hindu Pushup.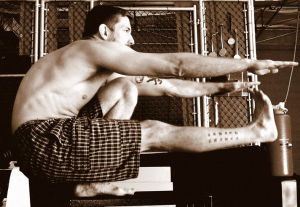 For those of you who think going to the gym and throwing a ton of weight on the flat bench is a good chest workout… I challenge you to try doing some of these. If you really want to push yourself - I suggest you try the Karl Gotch Bible which incorporates this exercise along with Hindu Squats. I trust Laren will post a video demo about shortly.
You can follow Laren on facebook here or check his blog out via the link above.